Buying Property in Southwest Florida
Buying property in Southwest Florida can be a fun and rewarding experience.  It can also be quite frustrating.  Our inventory is low and buyers often find another agent has beat them to their first choice.
That's why we designed our Buyer Advantage Program Ô   Members of our Buyer Advantage Program enjoy special benefits, like advanced notice of listings we're working on, our Open House Pass that let's other Realtors know you're working with the Ellis Team at RE/MAX and not to bother you with phone calls, and of course access to the MLS.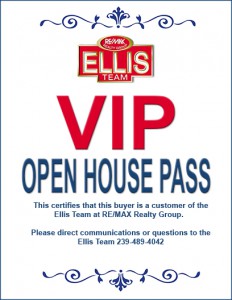 [idx-platinum-widget id ="4929-37513″]
We seek to make buying property in SW Florida a fun experience for you. Buying real estate has become more complicated over the past few years.  Many are not aware of new laws and disclosures that can cause trouble if not completed properly.  Our team will not only educate you about new laws and regulations but also educate you in our local market so you can compete against other buyers trying to buy the same home.