Do Professional Listing Photos Really Matter?
We've been doing real estate a long time.  Long enough to remember the days when we'd go down to the board office and pickup MLS books on Tuesdays where each MLS listing had black and white listing photos in a book.  It's hard to believe real estate was done that way even back in the 90's.
Oh sure, agents needed at least one good photo of the front of the home for print advertising.  Some agents didn't bother taking more photos than the front.  Then along came the Internet in the mid to late 90's.  MLS's started accepting more photos of the home, and agents started posting the entire MLS on their website like we do at www.Topagent.com  In fact, we were the first agents to put the MLS on our website back then.
I was searching through listings the other day and I came across some really bad photos.  Some were obviously shot from and iPhone because they had that narrow elongated tiny vertical picture you see, almost like a screenshot photo.  Other photos had cluttered counter tops or garbage all over the place.
I don't want to call out any local Realtors or sellers so I won't display those photos here.  I was just amazed that they'd put these photos online knowing full well that sites like Zillow, Realtor.com, Homes.com, Trulia, etc scrape that data and display these listings online, not to mention all the agents who display the MLS on their websites.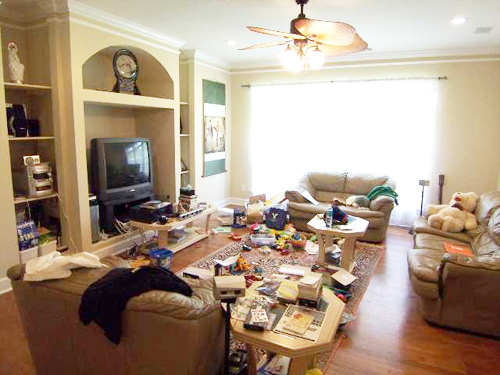 Basically the world's first and last impression of these homes is a series of crappy photos.  With more buyers starting their search online, why in the world would they expect a showing from these photos?
We since stumbled onto a website called badmlsphotos.com  Believe it or not there is a website dedicated to calling out sellers and Realtors for displaying bad photos online.  Much thanks to Barry Bevis who runs this site for allowing us to use one of his photos.
The Ellis Team takes photography seriously.  It all starts with hiring photographers who take excellent pictures.  Some homes can be tricky with lighting, both interior and exterior.  Having a pro can make all the difference, so we hired someone on staff with experience.  In fact, we have two full-time employees on staff with photography experience.  We also have a Photoshop expert optimize our photos for extra quality.
We created a website called www.HomesinHD.TV  Basically it's our homes shot in High Definition.  We take professional photographs and edit them then combine them with full HD video and aerial photography.  The result is a Hi Definition video we use to market each of our listings.
Not only are these videos available on our website, but the high quality still photos and aerial photos are available on national sites like Realtor.com, Trulia, Zillow, etc.  We have the ability to place these photos into MLS so these aggregating sites pickup on our photos.
The photos your Realtor provides to MLS makes all the difference.  Buyers today are deciding which homes they want to see based upon their impressions from photos.  Many Realtors show homes online in their office and narrow down which homes their customers want to see.  This is one reason why each showing matters and many times buyers buy on day 1.
Buyers today are more informed.  They do their homework before contacting a Realtor.  They're more ready to make a decision.  Just another reason why you don't want to turn down showings and keep your home ready at all times, but that's fodder for another article in the future.
Bottom line, hire a Realtor that takes photos seriously.  Your sale depends upon it.  The buyer takes them seriously, and so should the seller.
View our July 2014  SW Florida Real Estate Market Update
To view our Listings in Hi Definition, visit www.HomesinHD.TV or click on our playlist below

Visit our Google+ Business Page
Feel free to view our Virtual Tours .
Fort Myers Real Estate Agent
1520 Royal Palm Square Blvd #160
Fort Myers, FL 33919