Back in March we wrote an article about the benefits of joining a SW Florida boat club versus owning a boat.  The article was about people moving to SW Florida and debating whether to spend big bucks buying waterfront property so they could have a boat in their back yard.  Don't get me wrong, I'm all for having a nice property and having a nice boat in your own backyard.
There are some costs for this luxury though.  First of all, you spend a lot more for the property.  Flood insurance may be higher too, as are property taxes.  Then you have the costs of the boat.
Perhaps you have a boat payment, a down payment, Sea Tow, insurance, licensing, maintenance, and of course depreciation.  Boats never seem to go up in value, only down.  Personally I hate cleaning up the boat after I come in from a day in the sun.  It would be so nice to just walk up onto the boat and it's all gassed up and walk right off at the end of the day.
After writing the article I looked into this membership a little further.  For me it wasn't about moving down here and selecting a property.  I already live here and love the life in paradise.  I don't have enough equity in my home to make a move to the waterfront so that's not even an option.
If I wanted to get out on the water I basically had just two options.  First, buy a boat and find somewhere to store it.  My garage isn't big enough to store and trailer a boat.  Secondly, I could check out a boat club.
Advantages of Joining a SW Florida Boat Club:
My monthly payment with the boat club is less than what a boat payment would be.  I don't pay for insurance, towing, storage, maintenance, tax, title, repairs, or anything.  I just pay for the gas.
Best yet, when I walk off the boat I just walk away.  They fill it up with gas, clean it, park it for the night, etc.  Our family just walks off happy and we have the rest of our evening.  It's really a beautiful thing.
I don't have to get the boat ready either,  Years ago we owned a boat and each time we took it out I'd have to go make sure battery is working, clean it up since it had been in storage, etc.  Today I just login to the online reservation system and reserve the boat and show up.  They have it sitting in the water all waiting for me.
My family just walks on and we're off the dock in less than 5 minutes.  I just run through a quick checklist to make sure all the life vests are there and a few other things and we're underway.  Most boats have a GPS unit, portable bathroom onboard.  My kids like the radio.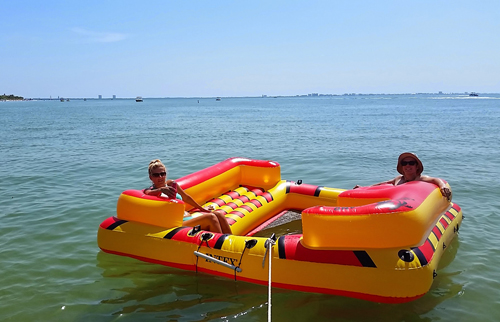 We even bought a blow-up raft we tie up to the boat.  Last week we anchored off Sanibel Island and had a blast.
The boat club I joined has fishing boats, leisure boats, and more.  One has air conditioning and a cabin.  They're adding boats to the fleet all the time.  My boys are excited about going fishing one of these days.
I joined Carefree Boat Club in Fort Myers, however I like that I have access to all the Carefree Boat Clubs across the world.  Next week I have a reservation at the Cape Coral location.  Basically it feels like I have joined two boat clubs because I have access to all the boats in Fort Myers and Cape Coral.
Our YouTube page has a nice video where dolphins were playing with us for about 10 minutes.  You might enjoy that video.  Joining the boat club has been great for my family.  Raising 3 teenagers and an 11 year old who thinks she's a teenager can be challenging, and having something fun to do like going out on a boat is a great family bonding experience.
Taking the family out on a boat doesn't have to cost a lot of money.  The time you spend making memories is priceless.
And remember, if you're thinking about moving to SW Florida, you don't have to spend an arm and a leg to live the good life.  Just get out there and make some memories.
Good luck and have a happy and safe 4th of July weekend.
To view our Listings in Hi Definition, visit www.HomesinHD.TV or click on our playlist below

Visit our Google+ Business Page
Feel free to view our Virtual Tours .
Fort Myers Real Estate Agent
7910 Summerlin Lakes Dr
Fort Myers, FL 33907